"M.Q."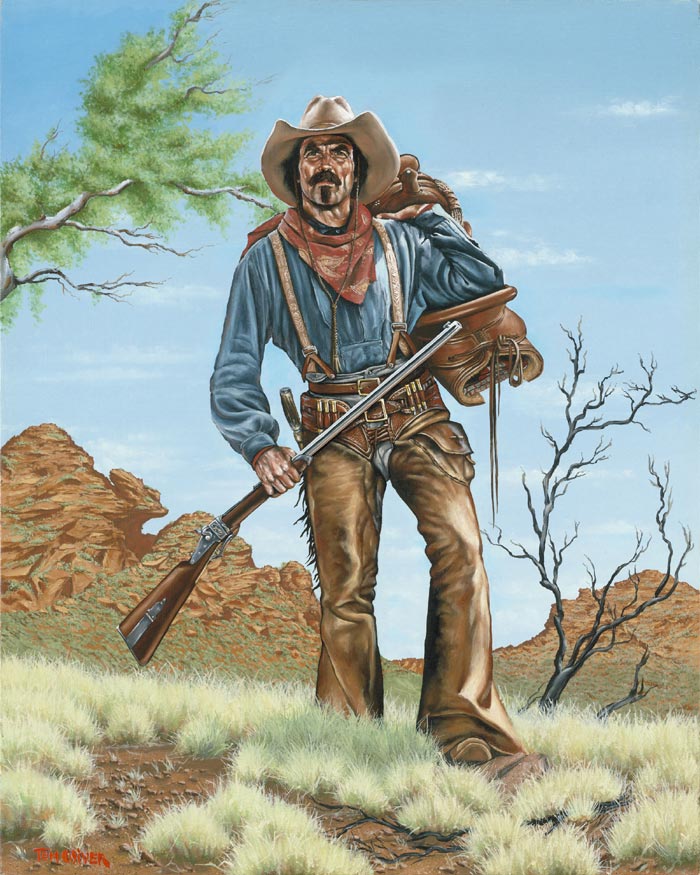 The original 24"x30" oil on canvas collaboration by Hawaiian artist Tom Oliver and Bink Picard of Canvas Cowboys Gallery and Gear is an established classic. It was an exciting project inspired by Tom Selleck as Matthew Quigley in "Quigley Down Under". Completed in 1994 it has been featured in many articles and shows. The recent movies "Crossfire Trail" and "Monty Walsh" triggered this release in a new medium.
"M.Q." looks great in homes, offices and businesses that accent the romance of the west and is a great gift item. It is a rare collectable in the genre of western fine art that will refresh you and inspire you each time you view it.
Please feel comfortable and confident with our secure online system. Share us with your friends and family. Thanks again for swinging by and doing business with us.
Feel free to contact us anytime at binkpicard@gmail.com.
| Available | Item - free shipping for all items | Price | |
| --- | --- | --- | --- |
| 650 | 20" x 25" "M.Q." Signed/Numbered | $950 | |
| 125 | 20" x 25" "M.Q" Artist's Proof (Hand Accented) | $1250 | |
| 125 | 20" x 25" "M.Q." Printer's Proof (Hand Accented) | $1250 | |
| N/A | "M.Q." Special: 8" x 10" SIGNED PREMIUM HIGHGLOSS EDITION | $89.95 | |